Established in 1973 to honor those individuals who have brought lasting fame to the state of Alabama through their business contributions, the Alabama Business Hall of Fame is proud to announce the names of the six individuals that compose the Class of 2023.
The inductees are Mr. Herman E. Bulls of McLean, VA; Mr. Tom Hough of Atlanta, GA; Mr. C. Phillip McWane of Mountain Brook, AL; Mr. James W. Rane of Abbeville, AL; Mr. Frank Stitt III of Birmingham, AL; and Mr. Michael D. Thompson of Birmingham, AL.
The induction ceremony will take place at Haven in Birmingham on Thursday, November 9.
The Alabama Business Hall of Fame Inductees for 2023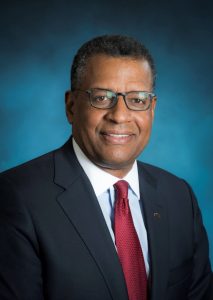 Herman E. Bulls
Herman E. Bulls is Vice Chairman, Americas, as well as international director and the founder of Jones Lang LaSalle's (JLL) highly acclaimed Public Institutions practice, which he started to serve governmental and higher education clients.
Born in Florence, Alabama, Bulls entered the United States Military Academy at West Point in 1974 and completed the Army's Airborne and Ranger Courses after earning an engineering degree in 1978. His active-duty assignments included Fort Dix, NJ, West Point Admissions, and an overseas assignment in Korea. Additionally, he was a professor of finance and economics at West Point for three years active duty and 18 years as a reserve officer. His last active-duty assignment was in the Pentagon in the Office of the Assistant Secretary of the Army for Financial Management. Further demonstrating his commitment to education, he also earned an MBA from Harvard University.
Bulls started his business career when he retired from active duty in 1988 as a captain before embarking on an impressive service career in the reserves. He joined JLL and worked as a developer and manager of an $800 million portfolio. During his more than 34-year career at JLL, Bulls has worked in the areas of development, investment management, asset management, facilities operations, and business development/retention.
He retired from the Army Reserves as a colonel in 2008 but his remarkable commitment to public service continued through his charitable work and board service. His current non-profit board service includes West Point Association of Gradates, the Defense Policy Board and the National Board of Governors of the American Red Cross. His current public corporate board service includes Comfort Systems USA, Host Hotels and Fluence Energy, where he serves as Chairman of the Board. He is also Vice-Chairman of the Board at USAA.
In addition to his current work at JLL, Bulls is the founder, president, and CEO of Bulls Advisory Group, a real estate advisory and management consulting firm. He was co-founder, president, and CEO of Bulls Capital Partners, a mortgage finance firm.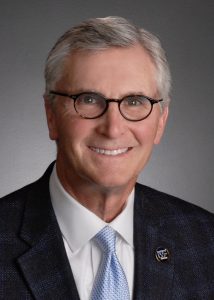 G. Thomas Hough
G. Thomas "Tom" Hough is a business leader who has made significant contributions to the business community, from Alabama to around the world. His career was largely spent working for "Big 4" accounting firm Ernst & Young — now known as EY — in positions of escalating responsibility and authority.
Hough entered The University of Alabama in 1973 earning a varsity letter in golf and graduating summa cum laude from UA with bachelor's and master's degrees in accounting. He started with EY in 1978 in Cleveland, Ohio joining the National Accounting Research Group. He subsequently transferred to the Birmingham office, making partner in 1987.
While in Birmingham, along with fellow inductee Michael D. Thompson, Hough served as co-general chairman, of the 1986 US Amateur Golf Championship and the 1990 PGA Championship.
Hough transferred to New York in 1996 joining EY's Executive Board. By the time of his retirement in 2014, he was leading EY's Americas Assurance Practice, serving on the Firm's Executive Board and a member of the Global Assurance Executive Committee.
Hough's commitment to his community includes being a founding member and the second President of the Sunrise Rotary Club of Birmingham. Serving on the boards and the Executive Committee of the Atlanta Chamber of Commerce, Central Atlanta Progress, the Atlanta Symphony Orchestra, the United Way of Metro Atlanta and as a Trustee of the Woodruff Arts Center. He is past President of Capital City Club in Atlanta and served as a member of the USGA Executive Committee. He has served on several corporate boards including Equifax Inc, Federated Hermes, Inc, Haverty Furniture Companies, Inc and Publix Super Markets Inc.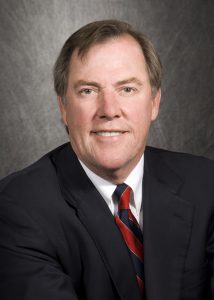 C. Phillip McWane
C. Phillip McWane is chairman of McWane, Inc., the Birmingham, Alabama-based manufacturer of ductile iron products such as pipes, hydrants, and other critical goods used in construction and water infrastructure.
Under McWane's leadership, the company, a cornerstone of the Alabama business community, grew to become a leading manufacturer while withstanding extraordinary economic pressures. He joined the company in 1980 and worked his way up through the management rungs of the company, including executive vice president and chairman. He is the fourth generation to lead the family-grown company, which boasts a 6,000-person workforce located in 25 manufacturing facilities around the globe.
McWane's commitment to the community is praiseworthy. He serves on the boards of directors or has served for Children's Hospital of Alabama, Sloss Furnaces Foundation, the Birmingham Business Alliance Executive Committee, and the McWane Science Center, which bears his family's name.
He graduated from Auburn University with a bachelor's degree in industrial management.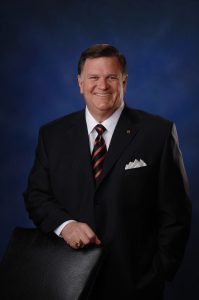 James W. Rane
James W. "Jimmy" Rane is the founder, chairman, and CEO of Great Southern Wood Preserving, Inc., a company he founded in Abbeville, Alabama, in 1970 and which has since grown to become one of the world's largest manufacturers of pressure-treated lumber.
An Abbeville native, Rane started his career as an attorney and a wood treater in his hometown, where he continues to live. While in law school, Rane mediated a dispute over his father-in-law's estate, which led to him taking over a small wood treating business owned by his father-in-law. Over time, the manufacturer that started out, as Rane described it, as something of a side business has grown to become a multi-billion-dollar company that has both domestic and international operations.
Great Southern Wood Preserving and its YellaWood brand are now at the forefront of the wood and preservation industry. In addition, Rane's love of preservation is easily seen in his hometown, where the company has restored numerous properties and played a role in Abbeville's revitalization.
Rane is a trustee at Auburn University and serves on the Board of Trustees of the Abbeville Methodist Church, the Board of Directors of the Henry County Historical Group, and the Board of Directors of the Alabama Heritage Foundation, among his many other contributions to organizations.
He graduated high school from Marion Military Institute and earned his bachelor's in business administration from Auburn University, as well as a J.D. from the Samford University Cumberland School of Law. Rane also completed the Harvard University Owner Management Program.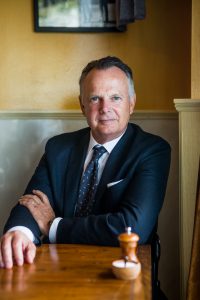 Frank Stitt III
Frank Stitt III is the owner and executive chef of Highlands Bar and Grill, Bottega Restaurant, Bottega Café, and Chez Fonfon in Birmingham, Alabama.
Stitt's fondness for humble Southern ingredients comes directly from his roots in rural Alabama — an early age, he developed a deep appreciation for the land and farming.
Stitt's culinary journey began to take shape when he moved to San Francisco, and he honed his kitchen skills at various Bay Area restaurants, including the kitchen of Alice Waters at her now legendary restaurant, Chez Panisse. He eventually made his way back to his home state and in 1982, Stitt opened Highlands Bar & Grill, followed by Bottega in 1988, Café Bottega in 1990, and Chez Fonfon in 2000—all in Birmingham.
His adventurous spirit towards cooking, commitment to sustainable and humane food sourcing, and demonstrated connection to the South's culinary traditions led to Highlands Bar & Grill receiving the James Beard Foundation Award for Outstanding Restaurant in 2018 after being nominated for the prestigious award each year since 2009. Stitt also was inducted into the Alabama Academy of Honor, the most distinguished award given to an Alabamian, in 2009. He is the recipient of many other hospitality-related recognitions.
A standing board member of the Jones Valley Teaching Farm and Pepper Place Farmer's Market, both in Birmingham, Stitt served on the board of the Downtown Rotary Club of Birmingham.
He attended Tufts University and the University of California, Berkeley.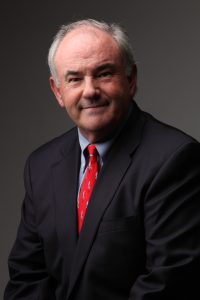 Michael D. Thompson
Michael D. Thompson is chairman of the board of Thompson Tractor Co., a dealer of heavy earthmoving machinery and engines through the South, and president and CEO of Fairway Investments.
Thompson joined Thompson Tractor Co. in 1977 and became president and CEO in 1986. Through his leadership, the company expanded its footprint, its ranks of employees, and lines of business. Thompson Tractor Co. is the full-line Caterpillar dealer for Alabama and northwest Florida, and the premier Hyundai forklift dealer for most of Georgia and Central Tennessee. Thompson also provides equipment solutions from other manufacturers for the industrial, mining, construction, material handling and farming industries. The company is now led by daughter Lucy Thompson Marsh, the fourth generation of the family at the helm.
Thompson's interest in real estate led him to found Fairway Investments, which has holdings in ten states throughout the Southeast.
He is involved with many community-centered organizations including Coalition For Regional Transportation, United Way, Salvation Army, Business Council of Alabama, Mountain Brook Board of Education, Shoal Creek, UAB Health System, Forever Wild Foundation, the UAB Callahan Eye Foundation Hospital, and Quarterbacking Children's Health Foundation.
He earned a bachelor's degree in general business from The University of Alabama.
More Info
Learn more about the Alabama Business Hall of Fame and purchase tickets to the upcoming induction ceremony at https://abhof.culverhouse.ua.edu.
Contact Zach Thomas, the Alabama Business Hall of Fame Director of Marketing and Communications, at rzthomas@ua.edu or 205-348-8318.
Media may download headshots of the 2023 ABHOF Inductees here: https://alabama.box.com/v/2023ABHOFMedia