Established in 1973 to honor those individuals that have brought lasting fame to the state of Alabama through their business contributions, the Alabama Business Hall of Fame is proud to announce the names of the seven individuals that compose the Class of 2021.
The inductees are: Mr. Robert Baron of Huntsville; Mr. Cecil Batchelor of Russellville; Dr. Marcus Bendickson of Huntsville; Mr. Jay Grinney of Birmingham; Dr. Lonnie Johnson of Atlanta, GA; Mr. Joe Ritch of Huntsville; and Mr. Stan Starnes of Birmingham.
Due to the ongoing coronavirus pandemic and in the interest of the health and safety of our inductees and their guests, the induction ceremony will be rescheduled to October 7, 2021 at Haven in Birmingham. Contact events@culverhouse.ua.edu for more info about purchasing a seat or table.
The Culverhouse College of Business at The University of Alabama is home to the Alabama Business Hall of Fame, which is located in the College's Bidgood Hall. The College also organizes the annual induction ceremony.
More about the Alabama Business Hall of Fame and ticket and table sponsorship information at culverhouse.ua.edu/abhof.
Inductee Profiles
Robert O. "Bob" Baron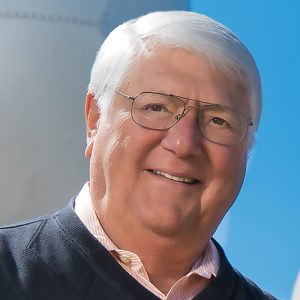 Robert O. "Bob" Baron is the CEO and Founder of Baron Services, which is an industry leader in weather forecasting and warning systems. The Huntsville-based company features a portfolio that includes weather radar, storm tracking software, and climatological data analysis tools. The U.S. National Weather Service recently tasked Baron Services with the job of upgrading the nation's radar network with the company's products.
Baron founded the company with expertise and relationships earned over a 22-year career in broadcast meteorology. It was the award of a NASA technology transfer grant to access weather data that led to the development of a real-time severe weather warning system that is used by pilots, first responders, and emergency management officials.
For his contributions to ensure public safety through free weather warning apps and other services, he has been commended by the Alabama House of Representatives. He has served on the Board of Directors of the Huntsville-Madison County Chamber of Commerce and the Huntsville Better Business Bureau. He has also supported a number of community organizations that benefit the region such as Big Oak Ranch, the Boys and Girls Club of North Alabama, Manna House, and Homes for our Troops.
He earned his undergraduate degree in broadcast journalism from the University of Tennessee; UT's Haslam Business School named him Entrepreneur of the Year in 2011.
Cecil Batchelor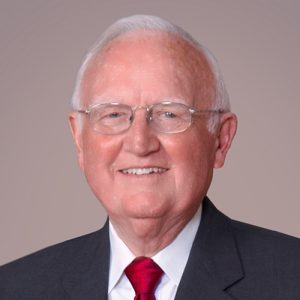 Cecil Batchelor is the Chairman of CBS Banc-Corp and Chairman Emeritus of CB&S Bank, based in Russellville, Alabama. His 56-year banking career is one defined by success in establishing and leading banks throughout the state. After becoming involved with Russellville's Citizens Bank, now CB&S Bank, he founded First Federal Savings & Loans in Haleyville. Over time First Federal Savings & Loan merged with First Federal of Alabama in Jasper, now known as Pinnacle Bank.
During his tenure as chairman, CB&S Bank grew from having $5 million in assets to more than $2 billion in assets. The bank also grew from one office in Russellville to an impressive 56 branches in Alabama, Mississippi, and Tennessee.
A veteran of World War II, having served in the United States Navy, Batchelor is committed to the community of Russellville and has been twice-honored as that city's Citizen of the Year and is a 72-year member of the local club of Civitan International. He has also led a number of community-oriented initiatives, throughout the state of Alabama, including successful efforts to raise funds for hospitals and health-related causes.
He attended Florence State Teachers College, now known as the University of North Alabama.
Dr. Marcus Bendickson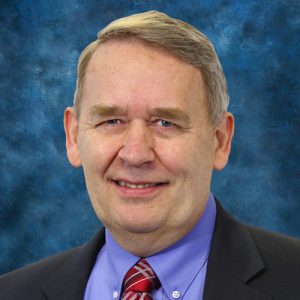 Dr. Marcus Bendickson is the retired CEO and former Chairman of the Board of Dynetics, Inc., a leading provider of high-technology, mission-critical services and solutions to government and commercial customers. Now a wholly-owned subsidiary of Leidos, Dynetics has over 2,500 employees throughout the United States providing responsive, cost-effective engineering, scientific, IT solutions to the national security, cybersecurity, space, and critical infrastructure sectors.
Dr. Bendickson became CEO of Dynetics in 1989 when he and his business partner, Tom Baumbach, orchestrated a buyout of its stock from its founders. Under Dr. Bendickson's leadership, Dynetics steadily grew to the second-largest employee-owned company in the state of Alabama, generating sales of approximately $275 million at the time of his retirement in July 2015. Dr. Bendickson remained as chairman of the Dynetics Board of Directors, leading the company through a period of unprecedented growth. Thanks in large part to Dr. Bendickson's vision and leadership, the Dynetics portfolio has grown to encompass highly specialized technical services and a range of software and hardware products, including components, subsystems, and complex end-to-end systems. In January 2020, Dynetics was purchased by Leidos for $1.65B, ushering in a new era of opportunity for the company.
He is involved in a number of organizations that serve the business interests of the Huntsville area, including serving on the Boards of Directors of the BB&T Greater Huntsville Advisory Board, the Huntsville Chamber of Commerce, and the HudsonAlpha Foundation. He also serves as Vice-Chair of the UAH Foundation Board of Trustees.
Dr. Bendickson earned his doctorate in electrical engineering from the University of Alabama at Huntsville, his M.S. in electrical engineering from Columbia University, and his bachelor's from Iowa State University.
Jay Grinney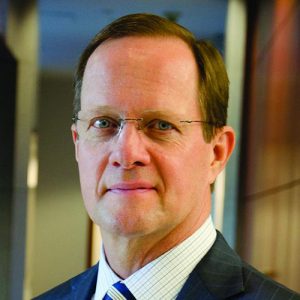 Jay Grinney is the former President, Chief Executive Officer, and Director of HealthSouth Corporation, now known as Encompass Health. The company, based in Birmingham, employs approximately 44,000 dedicated employees and offers post-acute healthcare services through its national network of rehabilitation hospitals, home health agencies, and hospice agencies.
Grinney has a long track record as a leader in executive roles. Before joining Encompass Health, he was president of the eastern group at Hospital Corporation of America and senior vice president at The Methodist Hospital System in Houston. He is currently serving as a senior advisor to KKR's private equity healthcare practice.
He has been involved with many community organizations, having served on the boards of directors of the Community Foundation of Greater Birmingham, the Birmingham Civil Rights Institute, the Public Affairs Research Council of Alabama, and the United Way of Central Alabama.
After receiving a bachelor's degree from St. Olaf College, Grinney earned both a Master of Business Administration and a Master of Healthcare Administration from Washington University in St. Louis.
Dr. Lonnie Johnson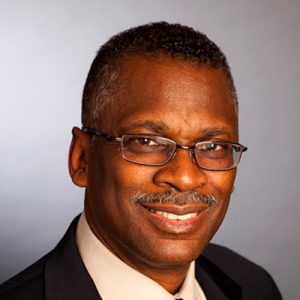 Dr. Lonnie Johnson is a lifelong serial entrepreneur and innovator. Growing up in Mobile, his innate scientific curiosity led him down a path that would include inventing advanced defense and aerospace technologies as well as a beloved summertime toy.
Dr. Johnson's career started at the United States Air Force and NASA where from 1979 to 1991 he worked on the Galileo mission to Jupiter, weapons projects, and the stealth bomber program.
It was, however, a passion project made at home that he is perhaps best known for. While experimenting with a heat pump and high-pressure nozzle, he realized that he had the makings of a water gun. Over the years, he refined the design, and in 1989, Larami Corporation licensed what is known as the Super Soaker.
Currently, Dr. Johnson is involved in developing new battery and fuel cell technologies.
He is a committed supporter of a number of community-oriented causes such as the Boys and Girls Club and serves as chairman of the Georgia Alliance for Children. Recently, he donated $3.5 million to construct a STEM building at Williamson High School in the Maysville neighborhood of Mobile, his alma mater.
He earned his B.S. in mechanical engineering and an M.S. in nuclear engineering from Tuskegee University and has been awarded an honorary Ph.D. from that institution.
Joe Ritch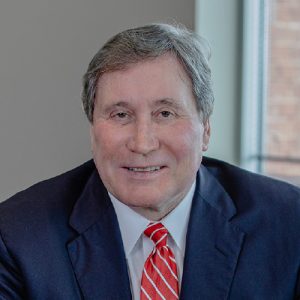 Joe Ritch is an attorney in the firm of Sirote & Permutt, P.C. and civic leader who has done much to elevate the Huntsville area with his involvement in a number of organizations. As Chairman of the Tennessee Valley BRAC Committee, he coalesced a group of 13 communities in north Alabama and south-central Tennessee to promote and advocate for Redstone Arsenal at a time when the facility was under strategic review by the United States Army.
As a result of the Committee's work, thousands of military and government contractor jobs were brought to Redstone Arsenal, which proved to be an economic boon for Huntsville. Furthermore, he helped usher in a $175 million state-funded investment in K-12 facilities to make the area an attractive place for relocation by reason by the BRACs.
Ritch was also the first Chairman of the Board of Directors from Alabama of the Tennessee  Valley Authority and also chairman of its nuclear oversight committee. He has served on the board of directors of multiple defense and technology companies including CAS, Inc. and Axometrics. He has also led the acquisition and sale of several defense contractors.
He earned his bachelor's degree from the University of Alabama in Huntsville, his Juris Doctorate from Samford University's Cumberland School of Law, and master of laws in taxation from New York University's School of Law.
Stan Starnes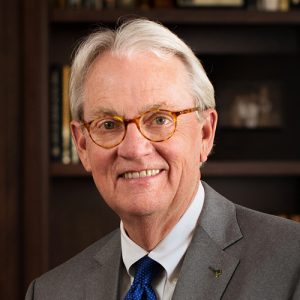 Stan Starnes is Executive Chairman of ProAssurance Corporation, one of the top casualty insurance carriers in the country. During his time as CEO, from 2007 until 2019, ProAssurance transformed itself from a physician-centric, regionally-oriented insurance company to one that took a healthcare-centric approach on a national level. And as a result, the company returned over $2.1 billion to shareholders while growing their equity by 37 percent.
Starnes' background is in law. In 1975, he and his father established the law firm now known as Starnes Davis Florie, specializing in courtroom advocacy for a wide variety of clients in civil litigation, especially physicians and others in healthcare. He is the youngest lawyer in Alabama ever elected to the prestigious American College of Trial Lawyers. For his work and his well-deserved reputation, he was named to the "Best Lawyers in America" for over 20 consecutive years.
He is a member of the Board of Trustees of The University of Alabama System, a member of the UAB Health System Board, and a member of the Board of the Crimson Tide Foundation. He was elected to membership in the Alabama Academy of Honor in 2018. He is also a member of the Salvation Army Birmingham Command Advisory Board and serves as Chairman of Ascension Board of Directors.
He graduated from The University of Alabama with a bachelor's degree in business.  In 1972 he graduated summa cum laude and first in his class from Cumberland School of Law at Samford University.
More Info
Learn more about the Alabama Business Hall of Fame and purchase tickets to the upcoming induction ceremony at culverhouse.ua.edu/abhof.
Contact Zach Thomas, the Alabama Business Hall of Fame Director of Marketing and Communications, at zthomas@culverhouse.ua.edu or 205-348-8318.
Media can download headshots of the 2020 ABHOF Inductees here: https://alabama.box.com/v/abhof2020press